Here are the top twenty titles public library patrons looked for in October 2021.
Fall has seen a number of big releases in literary fiction. Amor Towles's The Lincoln Highway took first place in October, with glowing reviews from the New York Times and NPR. Patrons were also eager to read Anthony Doerr's newly-released Cloud Cuckoo Land, which ranges from the 15c siege of Constantinople, to modern-day Idaho and future interstellar space. As often happens with hot releases, many were also checking out older books by the author–in this case Doerr's 2014's All the Light We Cannot See.
In political thrillers, interest was high for State of Terror by senator and 2016 presidential candidate Hillary Rodham Clinton and Canadian author Louise Penny. State of Terror is the senator and presidential candidate's first foray in fiction. Penny, however, is on a roll, with her mystery The Madness of Crowds also on October's Top-Twenty list.
Patrons were also looking for Frank Herber's 1965 science fiction novel Dune, no doubt wanting to read the book before the movie came out on October 28.
The Lincoln Highway by Amor Towles
Apples Never Fall by Liane Moriarty
The Wish by Nicholas Sparks
The Judge's List by John Grisham
Cloud Cuckoo Land by Anthony Doerr
State of Terror by Hillary Rodham Clinton and Louise Penny
Dune by Frank Herbert
The Last Thing He Told Me by Laura Dave
The Jailhouse Lawyer by James Patterson
The Midnight Library by Matt Haig
Crossroads by Jonathan Franzen
Bewilderment by Richard Powers
Better Off Dead by Lee Child
A Slow Fire Burning by Paula Hawkins
Peril by Bob Woodward
The Madness of Crowds by Louise Penny
All the Light We Cannot See by Anthony Doerr
Beautiful World, Where Are You by Sally Rooney
The Butler: A Novel by Danielle Steel
Harlem Shuffle by Colson Whitehead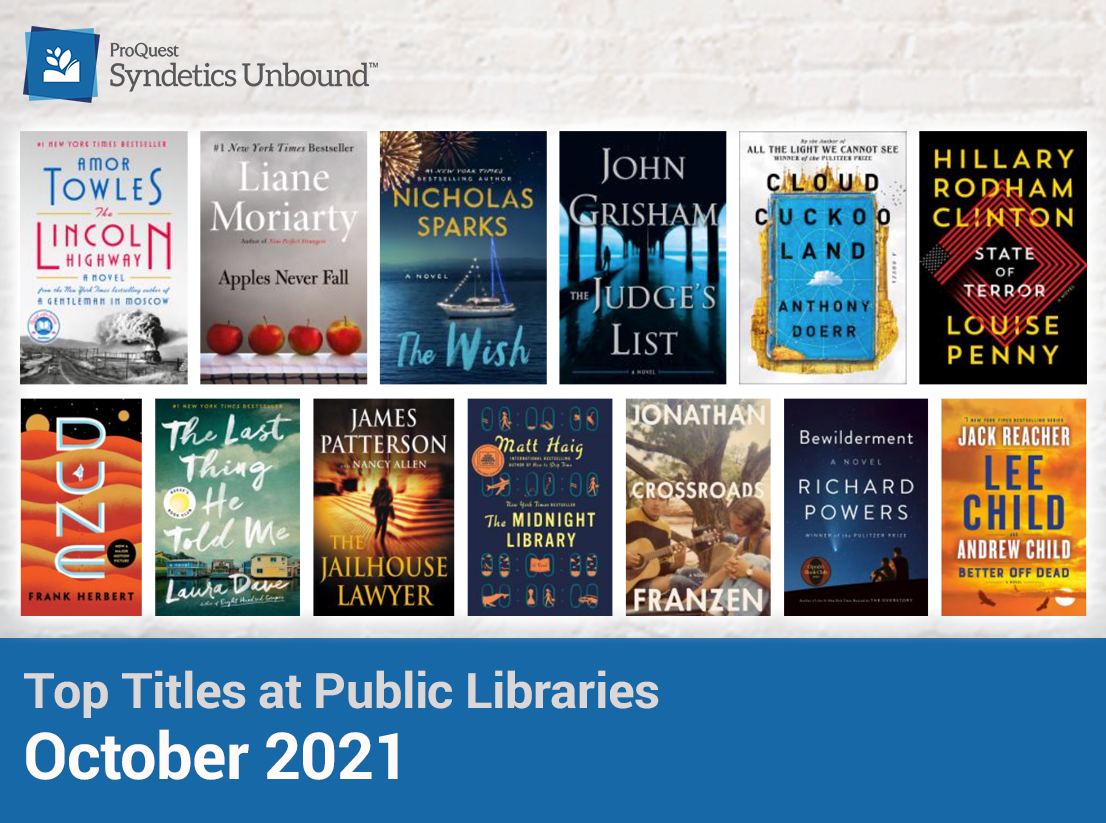 How Do We Know?
This data was collected by Syndetics Unbound. The search data is fully anonymized the day it is collected.