Here are the top twenty titles public library patrons looked for in June 2021.
Summer is here! The author of this newsletter believes a "beach read" is whatever you read on the beach, but publishers time certain releases for the summer. Malibu Rising by Taylor Jenkins Reid heads the June arrivals. Following a family of adult children on a literal beach in Malibu, Ophrah Weekly wrote "If summer could somehow fit into a book, then you'd find it in Malibu Rising." Elin Hilderbrand's new novel, Golden Girl, takes place in summery Nantucket; New York Magazine calls her the "queen of beach reads." Other summer-themed books include Jennifer Weiner's That Summer and Emily Henry's People We Meet on Vacation, published in May. In thrillers, James Patterson and Former President Bill Clinton released The President's Daughter, a follow-up to their The President Is Missing, published the first week of June, 2018.
The Last Thing He Told Me by Laura Dave
Golden Girl by Elin Hilderbrand
Malibu Rising by Taylor Jenkins Reid
The Midnight Library by Matt Haig
The Four Winds by Kristin Hannah
The President's Daughter by Bill Clinton and James Patterson
Sooley: A Novel by John Grisham
Legacy: A Novel by Nora Roberts
Project Hail Mary by Andy Weir
That Summer by Jennifer Weiner
People We Meet on Vacation by Emily Henry
The Maidens by Alex Michaelides
The Invisible Life of Addie LaRue by V. E. Schwab
The Other Black Girl by Zakiya Dalila Harris
21st Birthday by James Patterson
While Justice Sleeps by Stacey Abrams
The Vanishing Half by Brit Bennett
The Silent Patient by Alex Michaelides
A Gambling Man by David Baldacci
The Plot by Jean Hanff Korelitz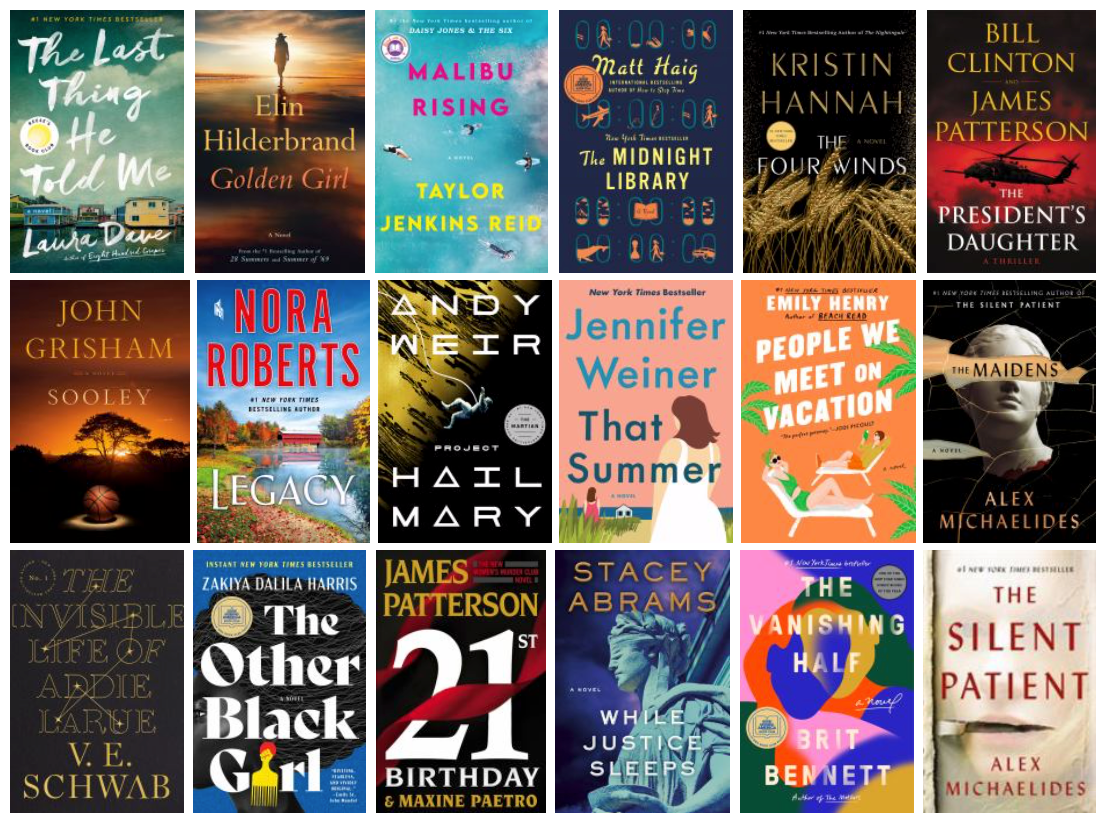 How Do We Know?
This data was collected by Syndetics Unbound. The search data is fully anonymized the day it is collected.