Last year we released a major new feature to Syndetics Unbound—Mark and Boost Electronic Resources—to help libraries adapt to full and partial shutdowns of their physical collections during COVID-19. One year later, and Mark and Boost remains a powerful tool, letting libraries highlight and promote their electronic resources.
The feature marks the library's electronic resources and "boosts," or promotes them within Syndetics Unbound's discovery enrichments, such as You May Also Like, Tags, Book Profile, and Reading Levels.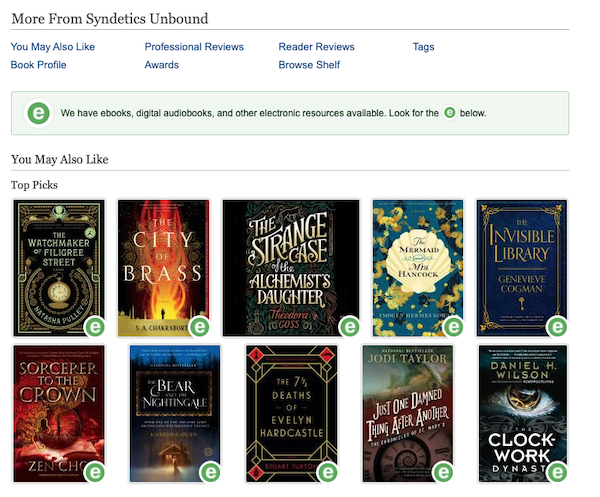 If activated, Mark and Boost can do three things:
Boost electronic resources. "You May Also Like" and other lists now prefer electronic editions of titles, and surface more electronic resources overall.
Mark all electronic resources with an "e" icon.
Add a message to the top of the Syndetics Unbound section of your page, explaining what the "e" means.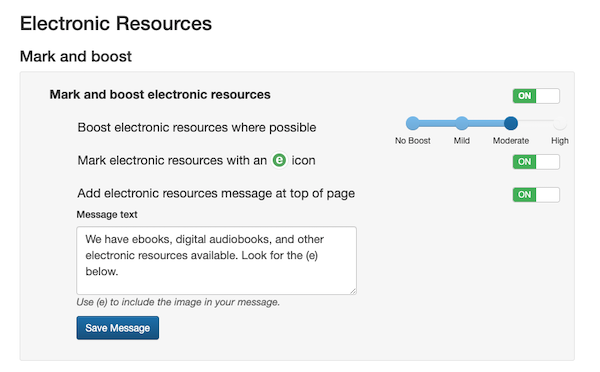 To turn this function on in your Syndetics Unbound Admin, go to the "Catalog Enrichments" page. Then choose the "Electronic Resources" option on the left menu. You can choose how much to boost your electronic resources as opposed to print, using the slider from "No Boost" to "High."